Happy Thanksgiving! A bit late -- but that's just how I roll. I do think about my blog and all, but I rather spend every second living life and then reminiscing about it. Sorry that I haven't responded to anything. It's not you, it's me. I haven't even responded to a few people I know in real life. I just needed a vacation, after running around and using up all my energy on advertising materials for various magazines the past 2 weeks. I always get nervous sending off my work, even though I've done it so many times. I'm a perfectionist and it's hard to let go without double checking and triple checking. It stresses me out. One day I'll make a post about my design work, but for now I want to bring the focus back to my outfit the past few days...because I went shopping on black friday :)

This was what I wore on Thanksgiving...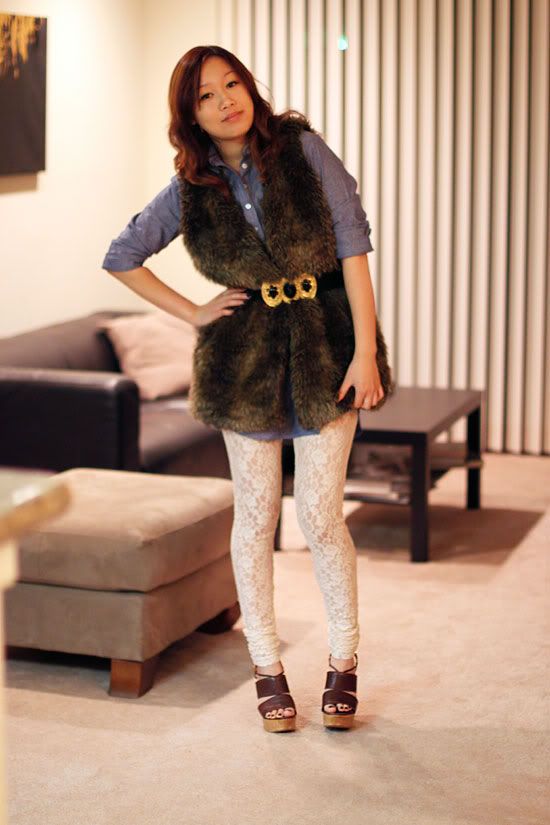 Fur vest from Nordstroms, American Apparel henley shirt dress, H&M lace leggings, Miu Miu patchwork wedges, vintage Christian Dior belt.
Yes I take things a bit literal sometimes, but its all for fun. I'm showing my spirit for the holiday, this is my version of a pilgram - though you won't catch me wearing a red/green combo for Christmas!
The great thing about working for a fashion company is that I get all my shopping done fast - so black friday wasn't spent buying gifts for friends and family, but for my own consumerism. My bf and I headed out to South Coast Plaza for some retail damaging at 6pm to avoid all the crazy shoppers. I was pretty happy making that decision since I hate crowded, unorganized places because it stresses me out. By the end of the night I came back with a new lovely bag.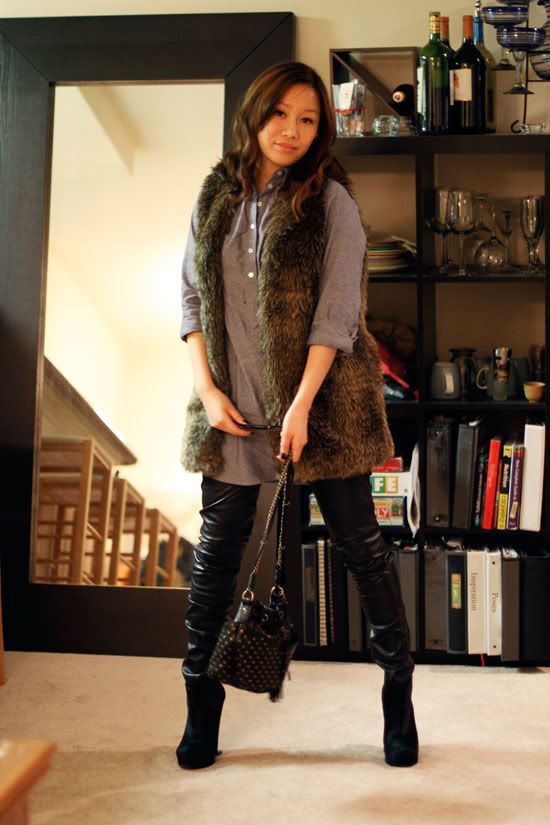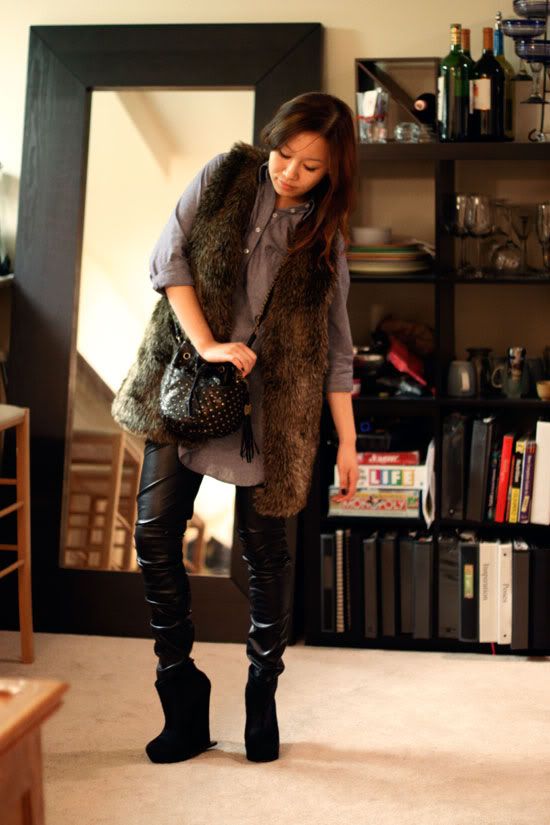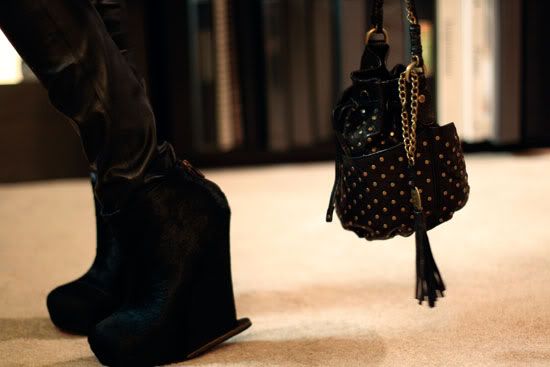 jimmy choo x h&m leather pants, bcbg 'mendel' wedge boots, olivia harris 'baby ball' bag
I love this bag! it's everything I've been looking for - small enough to carry at night, and blends into my wardrobe nicely. People on the streets have stopped and asked me about my shoes a lot, these particular boots I got at the BCBG store when they had a promotion where they'll take $100 off every $300 you spend. These being about $600, I got $200 off which was a pretty sweet deal. I was in awe at the store and couldn't take them off, the cushion pads that are sewn inside makes them so comfortable to wear - fits like a glove and I feel so tall!
Btw, I didn't wear them to go shopping (can you imagine shopping for 4 hrs in 5 inchers?). I wore the jimmy choo x h&m studded alligator brogues instead which I still need to photograph them in an outfit. I'm surprised that there is still a whole lot left at h&m. They're the best shoes on the market right now - go grab yourself a pair!