My apologies for being so late on this, I'm a pretty busy girl! I was invited by a lovely PR girl that was working with Plastic Makes it Possible and Becs of
Style with Benefits
to attend the Gen Art Fresh Faces of Fashion show last Thursday. Luckily it was in my neighborhood because I was only able to change my flats into heels and grabbed my camera after work, headed to my friend Maeva's and waited for her to get ready. Very last minute indeed, but was so glad I got to finally meet Becs and her equally stylish twin
Melanie
.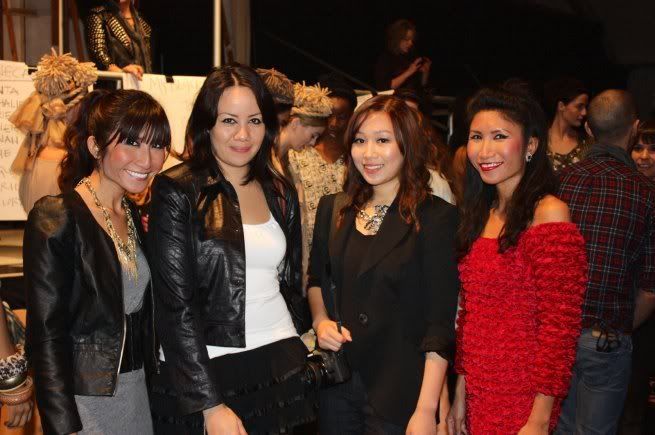 (backstage: Becs, Maeva, Me, Melanie)
Though you could barely see in the photo (credit to becs). I was wearing a vintage Escada tuxedo blazer, black sheer tee from Express, BCBG necklace, F21 jeans and LAMB 'Cho' heels.
It's a bit surreal meeting people who you've only been reading, commenting, and looking at photos behind the screen. Glad that Becs is as fun as her photos portray her to be. It felt like we've already met before. And of course, saying hi to other bloggers that attended like Neekoh of
Live Love LA
, Raych of
That's Chic
, and Krystal of
What is Reality Anyways
? Wished I knew the links of other bloggers that I met that night because they're all lovely people. Though I didn't stay after the show (the boyfriend was waiting for me to go to dinner), I still had a great time!
It's going to be a long post, so I've put some outfits I like from each designers and then the line up to keep it short and sweet.
the cat walk
amazing fur coat during the pre-reception
backstage line up
this girl, who ever this was had a pretty cool blazer on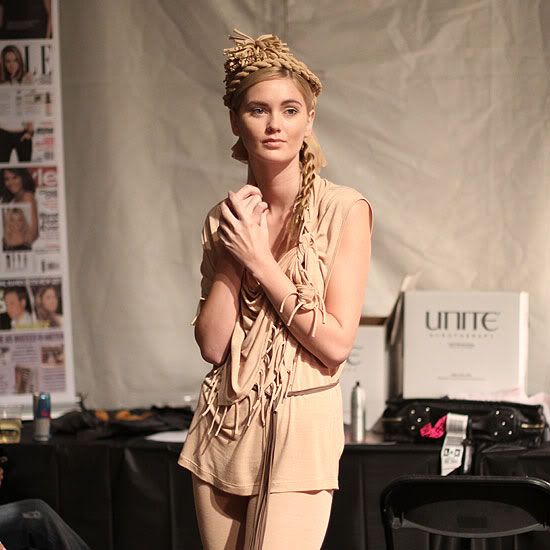 she looked almost like a mixture of Greek meets Pocahontas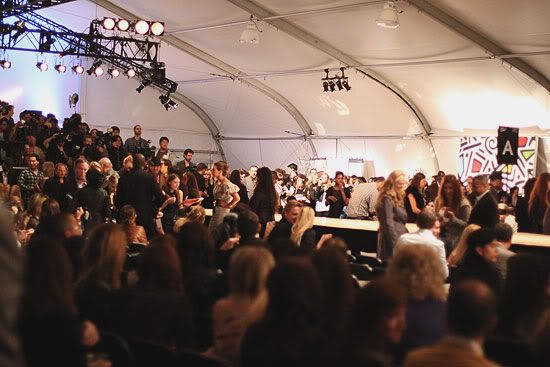 moments before the show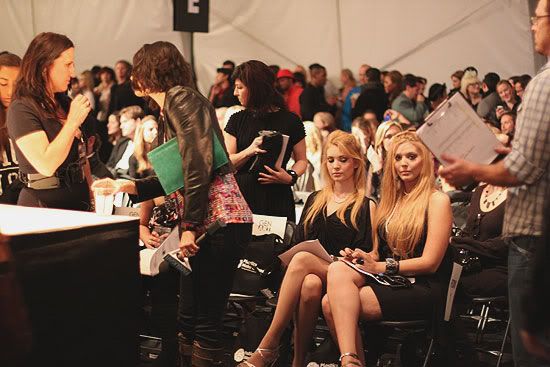 these 2 girls looked important, but not sure who they were.


Layendecker started the show and I really like the mixture of texture in their collection. Very cool cut out leggings that created an illusion it was part of the sandals.
I thought that the layering shapes they've introduced in this collection were fun, but nothing that we haven't seen before. Not saying that it's a bad thing, because majority of us go through our basics pretty fast. Overall, I say its a very complete collection.
Okay, so I couldn't decide on ONE photo to feature from Erik Hart's new menswear label. When designing menswear, detail is everything while keeping the tailored look as structured as possible and I think this one won my heart. Kept some photos just to show my boyfriend to give him some styling points and I also loved that 2 female models walked the runway (first shot) in this transgenderable collection. I could put a few of these in my closet for sure.
Honestly felt that this was true to what Rock Fashion Week should feel like. Something provoking, intense, and passionate. Probably something that you would see in our Avant Garde designers. Love the converse, bondage, kimono inspired, ink spills, and exaggerated shapes.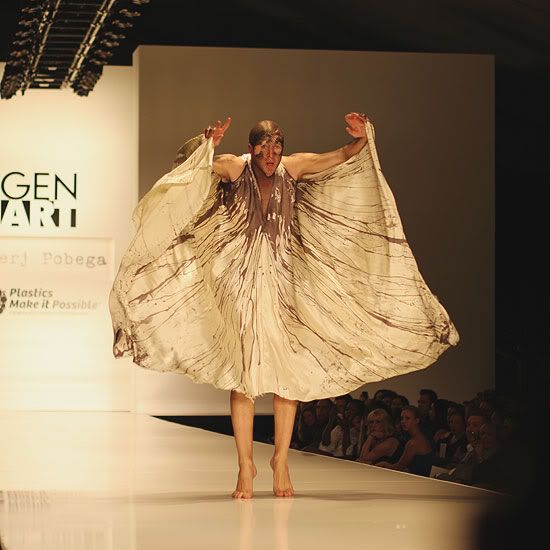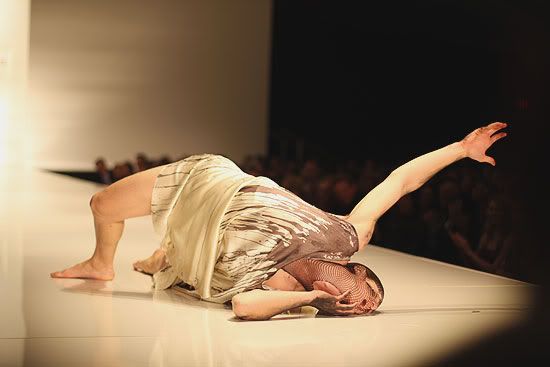 At the end of the runway, a dancer came out and gave such an emotionally charged performance. It told the story of her collection without a word.