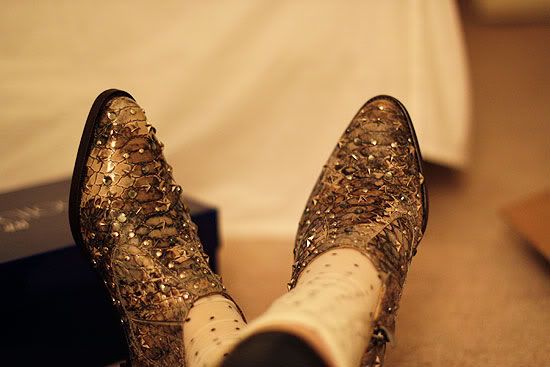 I absolutely love these! When I first saw them on
hm.com
I knew I had to have them. I've been trying to find new stylish flats to wear to work. I had these studded ballet flats from Bakers that I wore to death and needed a replacement. These shoes are perfect! I can think of so many ways to wear them. Don't you just love how shoes can inspire you to come up with new ways to dress?
Ever since I saw the collection from MG Black at the
Gen Art fashion show
I've been dying to dress with a little more menswear. The unisex appeal has never looked so good. I have collected quiet a few images to further elevate my latest obsession..I'll post them up some day when I stop being lazy...or take an outfit pic for once! I blame it on the weather.
I've also updated my little shop
Closet of Geometry
with some more old shoes of mine. I'm trying to clean out my shoe closet to make some room. Pretty soon I will stock up some faux fur coats, vests, jackets, cardigans, sweaters..etc =)
PS: look who is on
American Apparel
? A lovely AA staff contacted me if they could dispay one of my photos. =)