I've been meaning to scan some of my favorite spring looks from the latest issue of my favorite magazine. Everytime I go to Mitsuwa to buy groceries I always stop by the magazine/bookstore section for the latest issue of Spur. It cost me $15 an issue, but it's so worth it. It's one of the few Japanese fashion/style magazines that doesn't annoy me (I'm a bit picky when it comes to layouts).


Wish I had scanned the cover too, it was beautiful! Everything looks so rich and fresh. Vibrant tea dresses, lace, ruffles, DENIM, big t shirts worn as a dress, and olive greens with pungent red lips.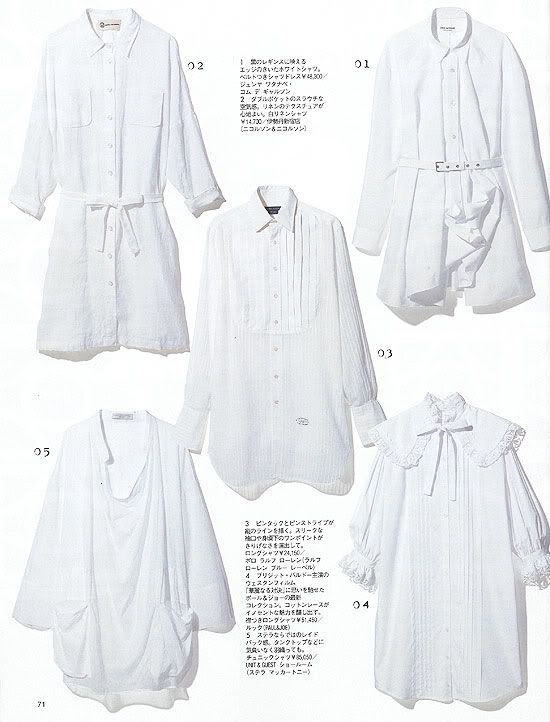 I'm crazy about the color white. If you visit my closet you would find a load of white/ivory blouses. Fabrics that are sheer, silky, or cotton in all sorts of cut. But this Spring I am in love with the idea of wearing them as dresses. Sexy boyfriend vibe with tan/brown platforms with socks and a straw hat.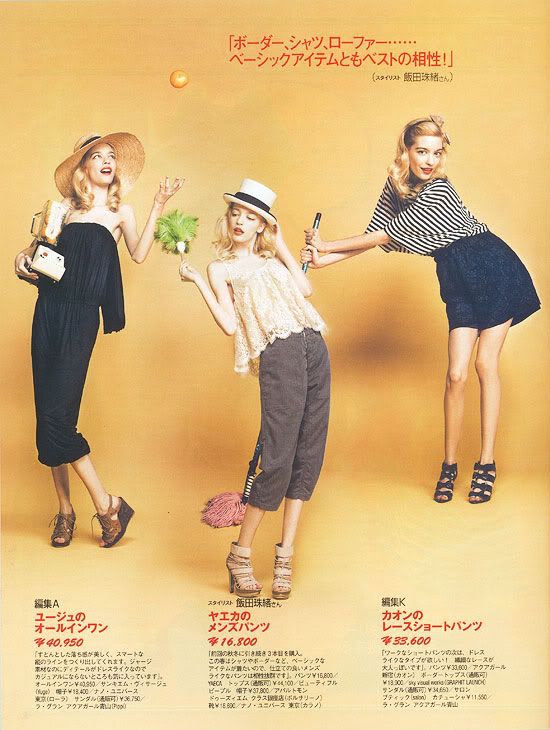 Stripes are going to be (as if it isn't already) a huge hit for this Spring and Summer. It's all about mixing stripes with other types of prints and textures. Nautical themes are also coming back, which I'm really excited about. If you knew me in the past, you would know how I would spend my summer days being a beach bum, it's the best feeling in the world. If I had it my way, I'd be living by the sea. Floating in the water, having wet hair while the sun bakes my skin warm, bonfire with friends and cooking crab in beer. It's one of those lifestyles I miss and I want to bring it back...with style.