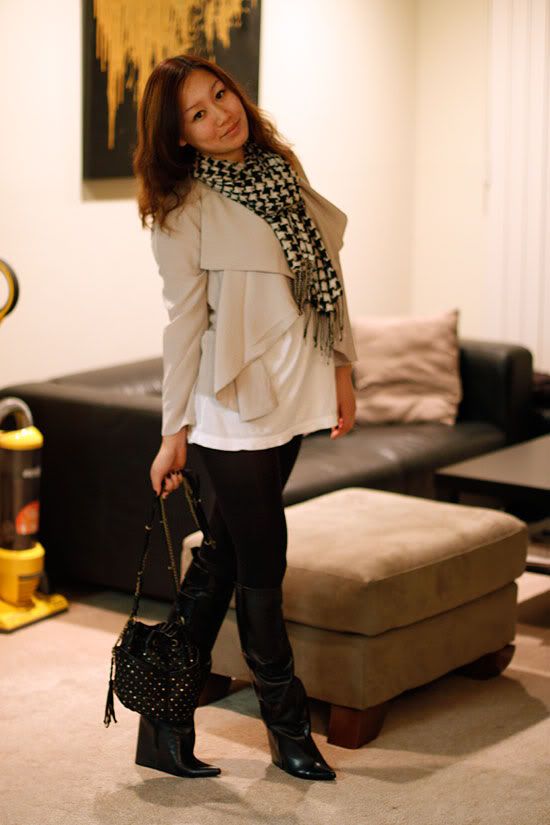 h&m ruffle blazer, f21 tank and scarf, target opaque tights, balenciaga (pre-fall 08) boots, olivia harris 'baby ball' bag
I haven't worn these boots in awhile, and it's nice to bring them back out of the box! The smell and feel of the soft leather makes me feel all luxe inside. My boyfriend calls them my anime boots, because well..they look like space boots with the slouchy and flair illusion. They are hard to walk in because of the pointy toes and heel without platform (makes it run smaller because it pushes your feet forward to the point). I thought they fit fine when I tried them on and did a little twirl when I first got them, but after walking on the streets for awhile they started to hurt....real bad. Wish I knew someone who has these boots that bought a size too big (38) so we can trade! I could only wish..until then my mission is to walk in pain and possibly stretch it out enough so it molds to my feet.
We craved sushi and headed to NoHo Art District for some dinner because upon arriving to my fav spot on Highlands, it was closed. North Hollywood is probably an area I've never explored, but heard many great things about...especially new lo brow artists, the dance community, and musicians. I should really explore the area more since I have friends living around the area too!
EDIT:
By the way, I'm heading to San Francisco, Portland, and Seattle for Christmas - New Years. Do any of you fashionable ladies know of cool local shops, dining, and art exhibits I should visit? I've been to SF many times, but always done the shopping at Union Square and that one road of all the high end shops but can't remember the name for the life of me. Would love to find great vintage stores while up there too :)